The Pearl Girls ® is a cultured pearl jewelry company and jewelry making business located in Athens, GA! We have been around since 2006 and we have a lovely store located on Hawthorne Ave in Athens!
After years of creating high quality pearl and beaded jewelry, we naturally progressed into jewelry repair!
First... I will tell you what we don't do... we do not set stones and we do not solder metal. Everything else is in our wheelhouse!
Do you have a strand of broken pearls or beads? We will fix it! Broken clasp? We can easily fix or replace it! Do you have a necklace that is too short or a bracelet that is too tight? We can lengthen them!
Once we had a grandmother come in with a necklace she wanted to turn into bracelets for her granddaughters!
We can turn strands into bracelets and bracelets into strands. Your options are limitless! 
Earrings and necklaces on chains are also a big part of our repair business! We can repair broken necklaces, popped chains, earrings without hooks and pearls and stones without earring backs!
What about rings? Although we do not set stones... we do set pearls in rings!
How Did We Begin? 
The Pearl Girls began with Founder, India Rows, traveled through Asia looking for high quality pearls. She soon expanded her travels worldwide in search of beautiful pearls.
As a new Mom, it was important to her to hire local mammas who needed well-paying, flexible jobs so they could work and raise their children. She created a space with onsite childcare. As The Pearl Girls grew, India realized the need in the marketplace for high quality jewelry repair. Jewelry stores were no longer staffed for repairs. So, she launched The Pearl Girls jewelry repair division.
At first, she focused on pearl jewelry repair. This is still a major component of The Pearl Girls repair department. However, she soon realized that The Pearl Girls could expand their repair into all kinds of beaded jewelry, rings, necklaces and more!

Today 
Today, women and men from all over the world mail their jewelry to The Pearl Girls for repair. Some choose to drive on over and see us!
We have created a system for receiving and repairing that is outlined here: https://thepearlgirls.com/pages/jewelry-repair-how-it-works
We also have created a system of gettin your jewelry to us. Learn about the Jewelry Repair Kit here: https://thepearlgirls.com/products/the-pearl-girls-jewelry-repair-service
Never Too Late
Many of our customers have jewelry that has been broken for years! It is never too late to fix your broken gems!
We had one Pearl Girl customer who wore her mom's pearls to her high school prom. That night, she broke her mother's necklace. She was too embarrassed to tell her mom. So, instead, she lied and said she had lost the necklace.
A home, she hid the broken strand and did not find it in her childhood things until 30 years later.
She then came to us with that strand of broken pearls. We repaired it and she gifted her mom with her pearls that Christmas.
It's stories like these that we get to cherish and be a part of each and every day.
We make jewelry beautiful and wearable again!
All Precious 
We treat every piece of jewelry with the tender, loving care you expect. All of your gems are precious to us! 
We have an inventory of antique and new pearls, beads of all kinds, clasps, metal, findings and more. We can work with the finest gems and imitation pieces with the finest of memories!  
The Plan
How are you going to get your gems to us? Here are your options:
1) Come see us! We are located in a beautiful cottage at 548 Hawthorne Ave in Athens, GA 30606
2) Mail your jewelry to us... same address! The Pearl Girls, 548 Hawthorne Ave., Athens, GA 30606
3) Or, if you don't want to be bothered with shipping, let us mail you shipping supplies and a shipping label! Order A Jewelry Return Kit here: https://thepearlgirls.com/products/the-pearl-girls-jewelry-repair-service
When Your Jewelry Arrives
When your jewelry arrives, we will call or email you and let you know! We will also give you an estimate on your repair.
No matter how you get your pearls or beaded jewelry to us, we keep your pearls locked up, safe and sound, until our amazing Pearl Girl staff is ready to work on them.
Depending on the time of year, repair can take between two weeks and four weeks. The holidays are our busiest times!
After our Pearl Girl staff member finishes, we will call you for payment and then send your jewelry back to you.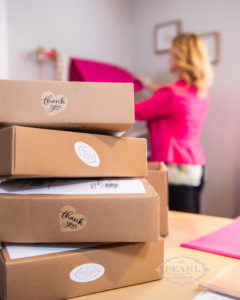 Investment
How much is your investment?
Restring/Reknot a single strand bracelet up to 9" $50
Restring/Reknot a single strand necklace up to 18" $100
Restring/Reknot a single strand necklace up to 22" $125
Restring/Reknot a single strand necklace up to 25" $150
All other lengths and jobs will be quoted upon arrival.

Extra heavy or very small pearls/beads will be charged an extra $30-$50 dollars. We will let you know if this applies to your piece, once it arrives!

Clean My Jewelry $20 (per piece)

Replace a Pearl in my Ring $50 +
(price can increase based on the pearl)

When we add pearls or beads to a existing piece, we prefer to quote this in house. Pearls vary greatly in quality and price, so we will want to see your piece to assess the exact pearls or beads that you need. Thanks!

Re-attach pearls to stud earrings $20 per pair
(FREE if they are from The Pearl Girls!)

New Clasps Start at $25 for Sterling Silver and $100 for 14K gold. See Choose Your Clasp

Rush Fee $25/hour

Need extra time to discuss your repair? Consultation is $30 an hour.
(billed in ½ hour increments)

$50/hour for Design
(billed in ½ hour increments)
And More...
Please know we can also change clasps, add pearls, remove beads and more. We LOVE being creative so don't be afraid to ask for what you want!
Finally, if your pearls need to be drilled or redrilled, please know we charge $10 per pearl for that service.
We aim for a 2 week turn around time during most of the year. During the months of November, December, April and May, it may take us up to 4 weeks to finish your job.
If you need your repair or custom design rushed, we can bump you to the top of the queue but we charge a $25 rush fee.
Smooth and Easy
Thank you for trusting us with your most precious gems! We aim to make this process very easy and we want you to be very happy!!!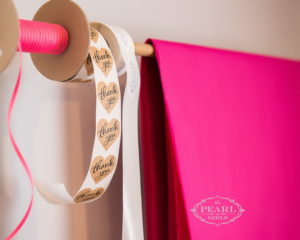 Thanks for joining our Pearl Girls journey!!!
** Here is some fine print info...The jewelry industry suggests restringing/ reknotting pearls every year to extend the life of your cultured pearl jewelry. If you wear your pearls often, this might be necessary! If you do not wear your pearls often, sometimes you can go many years before restringing them again! **
Our service guarantees our work for a year! Otherwise we will redo the work for free!!
*** The Pearl Girls Reknot and Restringing service is non-refundable! ***
Coupon codes do not apply to our pearl knotting service.