Product Description
It is easy to breathe new life into your pearls... simply use our service to restring or reknot your pearls and beaded jewelry. We can create a necklace from a bag of beads or simply restring a piece that is broken.
We love to get creative too! We can make necklaces into bracelets, bracelets into necklaces, change clasps, redesign and more! To get started, we need your jewelry! All charges can be paid before we mail back your gems!
Click here to order a jewelry return kit
--
Restring pearls with The Pearl Girls restringing/reknotting service. We believe in the power of pearls to capture some of life's greatest moments and to connect us to our ancestors. But those pearls are not doing anything sitting in your drawer with pulled out or broken knots! So, we offer our service to restring your pearls!
But, we work with beads, too! Cloisonné, jet, jade and more.... we work with all beads and beaded jewelry. The only thing we do not do is solder and set stones!
Here is more info on the pricing of our service. No need to pay yet, you pay us when we finish the job! Order a Jewelry Return Kit to mail your pearls to us or simply put them in the mil to our Athens, GA address (address below).
The easiest way to maintain your cultured pearl jewelry is to restring pearls on new silk thread. The pearl industry recommendation is to reknot your pearls every year to maintain their beauty and durability.
Why? First, the knots protect the pearls. If they loosen, the pearls can rub together and slowly wear. Also, dirt easily collects in the knotted silk. If it has been a few years, you will be amazed at how fresh and new your pearls look in a new knotted necklace.
We are happy to offer this restring pearls (knotting) service for you. An outline of our prices is below! We are privileged to put our team of highly trained women to work on your pearls. You are going to LOVE the way your pearls look!
The Pearl Girls Repair Pricing
Restring/Reknot a single strand bracelet up to 9"              $50
Restring/Reknot a single strand necklace up to 18"           $100
Restring/Reknot a single strand necklace up to 22"           $125
Restring/Reknot a single strand necklace up to 25"           $150
Extra heavy or very small pearls/beads will be charged an extra $30-$50 dollars
Clean My Jewelry                                                        $20 (per piece)
Replace a Pearl in my Ring                                                      $50 +
(price can increase based on the pearl)
When we add pearls or beads to a existing piece, we prefer to quote this in house. Pearls vary greatly in quality and price, so we will want to see your piece to assess the exact pearls or beads that you need. Thanks!
Re-attach pearls to stud earrings                              $20 per pair
(FREE if they are from The Pearl Girls!)
New Clasp                                                                     Start at $25 for Sterling Silver and $100 for 14K gold
Rush Fee                                                                       $25/hour
Not sure what you need?                                             $30/hour for Consultation
                                                                                        (billed in ½ hour increments)
                                                                                        $50/hour for Design
                                                                                        (billed in ½ hour increments)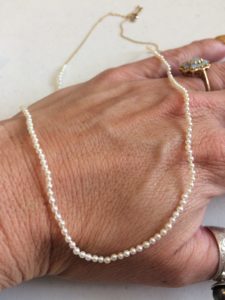 Isn't this a beautiful necklace? This is a reknot job that we did for one of our Pearl Girl customers. It came out beautifully but it was only 10 inches of pearls on a gold chain. It took our staff 3 hours it took to restring and knot this one necklace. This is why we have an additional charge for small pearls or beads!
Need any pearls drilled? We can do it! It only costs $10 to have a pearl drilled!
We also repair rings, replace clasps, add pearls, subtract pearls and more! Some women send us a collection of beads and pearls. We can work with any medium.. not just pearls!
Anything else? We do a lot! Check out our FAQ and feel free to reach out to us with questions! To check out our clasps, click here.
In order to utilize our service, you have two option. Mail your jewelry directly to us or  ORDER A JEWELRY RETURN KIT.
We will contact you when your pearls arrive so you know they are safe!
If you prefer to mail your gems directly to us, here is our mailing address:
The Pearl Girls
548 Hawthorne Ave
Athens, GA 30606
We actually prefer to receive payment after the work is done so we will happily reach out to you for payment via a digital invoice.
** Please know that coupons cannot be applied to our pearl restringing service or any other repair or restring pearl service. Thanks!**
We will handle your gems with upmost care and reknot them on our special pure silk thread an return them to you within two weeks. We prefer using Priority Mail so Shipping and Handling back to you is $10. If you want to upgrade to UPS or FedEx, we can do this, too! We will quote you!
Feel free to call us with questions! 706-850-5296 or email us! info@thepearlgirls.com
Click here to order your Jewelry Return Kit so you can get your pearls in the mail to us!
The Pearl Girls Pearl Jewelry FAQ
Thanks, y'all!
Love,
India, Founder of ThePearlGirls.com
SaveSave
SaveSave
SaveSave
SaveSave
@thepearlgirls on INSTAGRAM
Follow us on Instgram and tag your photos with @thepearlgirls #thepearlgirls