Free shipping on orders $99 and up! Call or visit us in person Wed - Fri 10 am - 4 pm & Sat 10 am - 2 pm
Product Description
Do you need to fix your pearls? Whether your pearls are broken, need a new clasp or are just plain dirty, we can take care of it for you! We fix all beaded jewelry! Order a Jewelry Return Kit today or shipping label today (to be emailed to you)! Or simply mail your jewelry to us! There is no obligation to use our service! More info below....
Our step by step process can be found by clicking
HERE!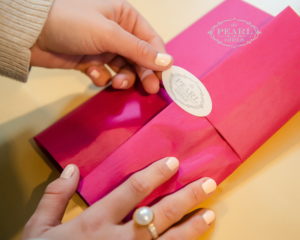 The Pearl Girls ® are thrilled that women far and wide are trusting us with their pearl jewelry repair service. We love pearls and we are so happy to string or knot your pearls for you. Broken pearl strand? We will fix it! Broken clasp? We have got you covered! Also, if you have a piece that needs to be lengthened, we can add pearls to your pearl necklace or pearl bracelet. We can turn strands into bracelets and bracelets into strands. Your options are limitless! One woman sent us a three strand necklace and we created three different strands for her granddaughters!

Who Are We?
We are The Pearl Girls! The Pearl Girls is a cultured pearl jewelry company located in Athens, GA. We started working with pearls in 2006, making all of our jewelry overseas. However, we soon transitioned production to the U.S.A to offer jobs to women here in our community. Because we are skilled pearl knotters, creating all of The Pearl Girls jewelry, we quickly realized that there was a big need for quality pearl knotting and repair. So, we launched The Pearl Girls pearl jewelry repair service.
We Work With More than Pearls!
However, we are not just a pearl jewelry repair service! We soon realized that many customers needed repair of other jewelry mediums, not just pearls! Glass beads, jet, jade and turquoise... we work with all different kinds of beaded jewelry. Do you have a sack of pearls or beads you just don't know what to do with? Send them to us! For only a $50 per hour design fee we can create something wonderful for you!
And remember, your jewelry does not have to be from The Pearl Girls! We repair all different kinds and brands of jewelry!

Oh, The Stories!
One customer had a glass bead necklace that her daughter broke when she was 5 years old. And her daughter is now 35! All those beautiful gems that are lifeless in your jewelry box... send them to us! We will make them beautiful and wearable again!
Add Pearls
Finally, think about your rings and pins! We can add missing pearls or replace the pearls you have! We have an inventory of antique and new pearls of all different qualities that we can easily work with. And we don't care if these are your fanciest pearls or your imitation pearls from your great grandmother... we treat every piece of jewelry with the tender loving care you expect. All of your gems are precious to us!
The Plan
How are you going to get your gems to us? Here are your options: Come see us at our store, mail your gems to us, or order A Jewelry Return Kit.
If you want to come by or mail your gems directly to us, our physical address, storefront and repair department are all located in a beautiful cottage in Athens, GA. Our address is The Pearl Girls, 548 Hawthorne Ave, Athens, GA 30606.
If you order a Jewelry Return Kit, this is our fancy way of saying we are going to mail you an empty box with bubble wrap and a return mailing label. We will also send you a little paperwork to sign telling us about your jewelry and what you want. Put your jewelry in the box and mail it back to us (feel free to put multiple pieces in one box!). The package is weighed up to 12oz which covers most shipments. If your jewelry weighs more than 12oz or if you have multiple heavy items, let us know and we will adjust the weight accordingly!

When Your Jewelry Arrives
We will track your package and, when it arrives, we will call or email you and let you know! We will also give you an estimate on your repair.
No matter how you get your pearls or beaded jewelry to us, we keep your pearls locked up, safe and sound, until our amazing pearl knotters are ready to work on them. Depending on the time of year, this can take between one day and two weeks. We will finish our work, call you for payment and then send them back to you. Due to the cost of shipping and packaging supplies, this kit is $19.99. This includes packaging supplies, shipping to you, and your Priority Mail label to ship your jewelry back to us.

Another Option
Do you have your own packaging material? Awesome! Select send me a shipping label and we will email you an USPS Priority Shipping Label! All you have to do is package your jewelry, put the label on the box and mail it to us! Again, we will track it to us and keep your pearls locked up, safe and sound, until our amazing pearl knotters are ready to work on them. Due to shipping and administrative costs, this label will cost you $12.99. Please select free shipping with this item.
Mail Your Gems to Us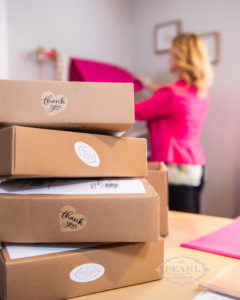 Again, you can also utilize The Pearl Girls Jewelry Repair Service by mailing those pearls directly to us using your own preferred shipping method! This will simply cost whatever it costs on your end! This option is necessary if you live outside of the U.S. We work with international clients all the time so we are happy to receive your jewelry! We, unfortunately, cannot send a USPS label overseas.
Our mailing address is:
The Pearl Girls
548 Hawthorne Ave
Athens, GA 30606

Investment
How much is your investment?
Restring/Reknot a single strand bracelet up to 9" $60
Restring/Reknot a single strand necklace up to 18" $125
Restring/Reknot a single strand necklace up to 22" $150
Restring/Reknot a single strand necklace up to 25" $175
Restring/Reknot a single strand necklace up to 30" $200
All other lengths and jobs will be quoted upon arrival.

Extra heavy or very small pearls/beads will be charged an extra $30-$50 dollars. We will let you know if this applies to your piece, once it arrives!

Clean My Jewelry $20 (per piece)

Replace a Pearl in my Ring $50 +
(price can increase based on the pearl)

When we add pearls or beads to a existing piece, we prefer to quote this in house. Pearls vary greatly in quality and price, so we will want to see your piece to assess the exact pearls or beads that you need. Thanks!

Re-attach pearls to stud earrings $20 per pair
(FREE if they are from The Pearl Girls!)

New Clasps Start at $25 for Sterling Silver and $100 for 14K gold. See Choose Your Clasp

Rush Fee $25/hour

Not sure what you need? $30/hour for Consultation
(billed in ½ hour increments)

$50/hour for Design
(billed in ½ hour increments)
And More...
Please know we can also change clasps, add pearls, remove beads and more. We LOVE being creative so don't be afraid to ask for what you want!
Finally, if your pearls need to be drilled or redrilled, please know we charge $10 per pearl for that service.
We aim for a 2 week turn around time during most of the year. During the months of November, December, April and May, it may take us up to 4 weeks to finish your job.
If you need your repair or custom design rushed, we can bump you to the top of the queue but we charge a $25 rush fee.

Smooth and Easy
It is so easy! And we are so proud that you are trusting us with your most precious gems. We know that pearls are worth more than their appraised value and we promise to honor and care for your pearls, and the memories they hold, until we return them to you.
And don't forget... we do not just repair pearls! Our pearl jewelry repair service covers all beaded jewelry! We have worked with coral, jade, imitation pearls and all types of beads.
Any questions? Please get in touch. Also, please know that by ordering our Jewelry Return Kit you are agreeing to our Terms and Conditions. Also, coupon codes do not apply to our pearl knotting service. Thank you for understanding! We promise to keep your pearls safe and treat them with the love and care they deserve! Thanks!

Want to Know More?
We know that sending your gems off to a company you found on the internet is a big deal! So, please, read up on us! We have great reviews on Google, Facebook and our website.
Want to know more about us? The Pearl Girls is a woman-owned jewelry company based in Athens, GA. Founder India Rows travels the world sourcing beautiful gems and bringing them back to our homebase to create The Pearl Girls™ jewelry designs. Because we have a staff trained in working with pearls, we naturally moved into the reknot and repair department to fill an international need for high quality pearl and jewelry repair. Besides The Pearl Girls ® repair department, The Pearl Girls™ sells their new jewelry designs online and at their shop in Athens. We supply wholesalers and catalogs with our pearls. India also takes others on her pearl traveling expeditions. Join her on her next exotic international pearl adventure!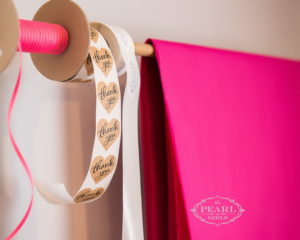 ** The jewelry industry suggest restringing/ reknotting pearls every year. If you wear your pearls often, this might be necessary! It you do not wear your pearls often, sometimes you can go years before restringing them again! ** Our service does guarantee our work for a year!
*** The Pearl Girls Reknot and Restringing service is non-refundable! ***
Thanks for ordering our Pearl Jewelry Repair Service!
@thepearlgirls on INSTAGRAM
PEARLS JUST WANNA HAVE FUN!
Follow us on Instgram @thepearlgirls and tag your photos with #thepearlgirls.