Free shipping on orders $99 and up! Call or visit us in person Wed - Fri 10 am - 4 pm & Sat 10 am - 2 pm
Product Description
Learn how to knot pearls with Abby, the head of The Pearl Girls jewelry production! A one-on-one class with Abby!
Are you interested in a one-on-one class? Learn How to Knot Pearls with The Pearl Girls with your one-on-one private class with Abby, our Head of Production.
We are offering classes to Learn How To Knot Pearls in a one 2 hour class! This class will be taught by Abby, the head of jewelry production here at The Pearl Girls. She will teach you how to knot pearls so you can craft your own fine jewelry. Maybe you have your grandmother's pearls that need to be reknotted and you have a passion to do it on your own. Maybe you want to give your daughter a strand of pearls and you want to create a piece just for her. Or maybe you are crafty and want to learn this amazing skill.
For all of these reasons and more, Abby is thrilled to teach you how to knot pearls! This will be an two hour class. This is all for you! Feel free to bring your grandmother's pearls to reknot, bring those pearls you got for a good deal! You can use our own imitation pearls or buy your own cultured pearls from our shop! .We will start with a brief introduction to pearls and then you will jump right in to learning how to knot pearls. Abby will teach you everything! You will create a pearl necklace or bracelet and you be able to take the pearls and thread home with you to continue practicing and perfecting your pearl knotting.
We will provide supply kits that you are welcome to purchase from the class but we anticipate you will have many supplies that you can use on your own (we use tweezers, pliers and clippers!) Participants also receive a coupon to purchase The Pearl Girls pearls for a major discount in case you want to knot a genuine cultured pearl necklace or bracelet for someone yourself or someone you love.
The maximum number of participants is 1. So this is just for you!
Are you a bride wanting to string pearls for your bridal party, mother or special friend or relative. How amazing to create high quality pearl jewelry for these amazing women in your life!!
You will learn to knot amazing cultured pearl jewelry! This can enhance your own jewelry business!
If you have any questions, please let us know! Email us at info@thepearlgirls.com or call us at 706-850-5296. We will work with you to book this class at a time that works for you and Abby!
Classes held at our office:
The Pearl Girls
548 Hawthorne Ave
Athens, GA 30606
Patricia took this one on one class and knotted her own Tahitian Pearl Necklace!!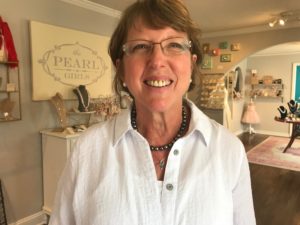 @thepearlgirls on INSTAGRAM
PEARLS JUST WANNA HAVE FUN!
Follow us on Instgram @thepearlgirls and tag your photos with #thepearlgirls.