Free shipping on orders $99 and up! Call or visit us in person Wed - Fri 10 am - 4 pm & Sat 10 am - 2 pm
Product Description
A 14" pearl necklace with small cultured freshwater pearls and a sterling silver filigree clasp. Also available in a shorter 12" necklace or an even longer 16" or 18".
Imagine the look on her face… can you picture it? I can… because I experienced the joy of receiving a girl pearl necklace when I was young. Maybe you did, too? This is a true gift of joy that young girls carry with them for a lifetime. Truly. A lovely tradition of pearls they can wear while they are young and a necklace they can cherish forever. This is a necklace of joy for young pearl girls!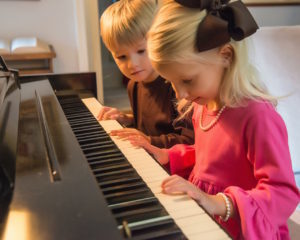 We recommend small cultured white pearls in a 14 inch necklace suitable for infants, children, young teens and some petite women. Our small pearls are 5mm in diameter.
If you prefer to go smaller for an infant, we suggest the 12 inch necklace. Please just watch your precious one as she wears her pearls! Due to the small size, these pearls are a choking hazard for children under 3. And if you prefer even smaller pearls, see our Baby Necklace.
If you are a bit older but still love the beauty of these small pearls, we also offer this necklace in 16". Purchase this length for your girl if you prefer her to wear to her Pearl Girls pearl necklace as she grows older! I still remember the day I outgrew my pearl necklace and bracelet! I was so sad! (That is until I had the necklace and bracelet combined into a longer strand)! Remember, you always have options as you grow but if you want your sweet girl to wear her Little Girl pearl necklace longer (without restringing it!) go ahead and choose the longer 16" length.
As always, these beautiful cultured pearls are custom knotted for you and only you by our amazing team of pearl knotters in Athens, GA. And we handle a world-wide pearl restringing and reknotting business, too! So.. if you ever want to get something restrung, let us know!! You deserve such luxury (and so do your love ones!)
Here is some feedback from a lovely Pearl Girl customer:
India,
I wanted to share some pictures that we recently had taken of my family. Take special notice to our beautiful pearls!
I wore those beautiful pink pearls that my mother (Carol) got for my sister and for Valentine's Day within the last year or two. I absolutely love them and love that we got to pick out the pinks that looked best for us - which were completely different for each one of us.
Virginia has on the pearls my mother got from you to give her this past Easter.
I hope we'll soon be able to get V a strand of pink pearls, like her mama's
We really enjoy your lovely pearls, your wonderful customer service. I appreciate the pearls I have now that I know so much more about what goes the selection and the stranding of each necklace. Thank you for that!!
Aimee D.
I get this kind of cuteness emailed to me on a daily basis! I have the best job ever! Thanks, Pearl Girls, for sharing your lovely families with us!!
Sincerely,
India
@thepearlgirls on INSTAGRAM
PEARLS JUST WANNA HAVE FUN!
Follow us on Instgram @thepearlgirls and tag your photos with #thepearlgirls.