Free shipping on orders $99 and up! Call or visit us in person Wed - Fri 10 am - 4 pm & Sat 10 am - 2 pm
Product Description
A beautiful leather necklace with stunning mabe - mother of pearl enhancer-- we think you'll love it as much as we do!
Check out this beautiful leather and pearl necklace! But, as you can see, this isn't just any pearl. This is a wonderful formation of mabe pearls and mother of pearl in this mother of pearl enhancer. Wait until you see them in person! They are so gorgeous! So, how does that happen? See my video for more info on how these are formed and how I came to have these beautiful pieces!
Basically it is a perfectly imperfect formation. A beautiful mistake. You see, pearls form within the soft tissue inside a mollusk and when they don't, they may "accidentally" fuse against the side of the shell. The result is a conglomeration of pearl and mother of pearl. And that is what these pieces are... each one uniquely different. Each one marvelous!
And, as you know pearls are so hot with leather these days. And leather is a great medium, especially for this piece! We have made it adjustable from 17" to 35" so you can adjust it to your perfect length or your perfect outfit... with this perfectly imperfect piece!
Choose between a deep chocolate leather, dark black leather or a natural tan leather* (*On CLOSEOUT).
As I mention in the video, these mother of pearl enhancer pieces feature pearls from our favorite spot in China… a pearl farm in Zhuji. But, if you don't want to commit to the entire four minutes... I know, I can be long-winded, just know these are extremely special pieces, each one is unique and I am excited to pick out one just for you!! Enjoy!!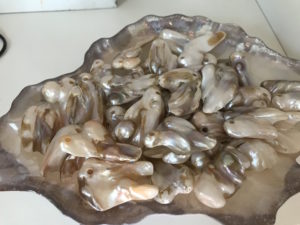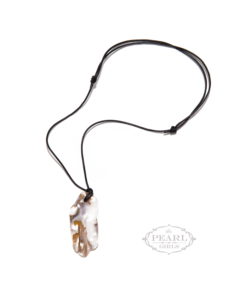 Made by us with love in our Athens, Georgia studio.

Love,
India
Other jewelry with these same Mother of Pearl pieces include the Madison Necklace here! And please note, these necklaces come packaged in an organza bag rather than a gift box.

@thepearlgirls on INSTAGRAM
PEARLS JUST WANNA HAVE FUN!
Follow us on Instgram @thepearlgirls and tag your photos with #thepearlgirls.