Product Description
In honor of football season, we are offering the Game Day Bracelets. This gorgeous and easy to wear bracelet features Large (9mm) genuine, cultured pearls. These pearls have an amazing luster and are sure to wow any fan. Last year we paired these pearls with (take your pick) an amazing Bulldawg Red or a down and dirty Black colored stones!
And this year, we are expanding our offering! Now, we have happily created Game Day bracelets for our friends at Clemson, South Carolina... even Florida ...and more! :) No competition here... just lots of fun and excitement for our teams! We are so excited to offer an expanded list of colors! Wear them separate or together! No matter how you wear them, you will look great cheering on your team!
Size 7.25 inches. Need larger Game Day Bracelets? Just let us know in the notes section of your order! This listing is for one bracelet, order multiples in your team colors for stacking!

And as for you Georgia bulldogs... can I just say... Go Dawgs!! I am so proud of coach Kirby Smart. Although I am ready to wear my Game Day bracelet all the way to a National Championship... let's work on that! :)
In Love and Sports,
India
Look at The Pearl Girls amazing former office manager... Tara Poston!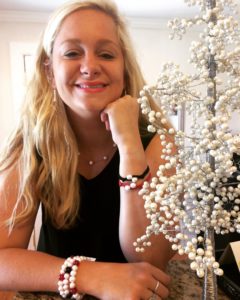 We will take about a week to make these but then we expect them to go out as soon as possible. Thanks for your patience! Also, if you need a refresher on colors... here are some teams in our neck of the woods.
For white we suggest doing all pearls (listed as Pearls Only) or Mother of Pearl which will be the same design but with 4 white mother of pearl beads!
Alabama – Crimson and White
Arkansas – Cardinal Red and White
Auburn – Burnt Orange and Navy Blue
Florida – Orange and Blue
Georgia – Red and Black
Georgia Tech - Gold and White (and Navy Blue)
Kentucky – Blue and White
LSU – Purple and Gold
Mississippi State – Maroon and White
Missouri – Black and Gold
Ole Miss – Red and Navy Blue
South Carolina – Garnet and Black
Tennessee – Orange and White
Texas A&M – Maroon and White
Vanderbilt – Black and Gold
SaveSave
SaveSave
@thepearlgirls on INSTAGRAM
Follow us on Instgram and tag your photos with @thepearlgirls #thepearlgirls