Free shipping on orders $99 and up! Call or visit us in person Wed - Fri 10 am - 4 pm & Sat 10 am - 2 pm
Product Description
Learn how to knot pearls with Abby, the head of The Pearl Girls jewelry production! This is a distance education class available to anyone who can not make it to our class in Athens, GA!
We have had so much interest in our pearl knotting classes and we know that some of you are just too far away to make it! What a bummer! So, here is the best alternative! We are offering a chance to learn how to knot pearls at home! This is our pearls distance education class! We will send you all of the supplies, a complete video and written instructions plus the email of the instructor so you can ask any questions! This way you can learn to knot pearls just like us and you do not even have to be in Athens, GA to do it!
We have had great success with this class and awesome feedback. A few of you have even shared photos of your work, thank you! See one Pearl Necklace Selfie here...
This class will be taught by Abby, the head of jewelry production here at The Pearl Girls. She will teach you how to knot pearls so you can craft your own fine jewelry. Maybe you have your grandmother's pearls that need to be reknotted and you have a passion to do it on your own. Maybe you want to give your daughter a strand of pearls and you want to create a piece just for her. Or maybe you are crafty and want to learn this amazing skill.
For all of these reasons and more, Abby is thrilled to teach you how to knot pearls! Simply purchase this package and we will send you the supplies and the instruction video on a jump drive. We will start working with imitation pearls and silk thread and a sterling silver clasp. You will be able to continue practicing and perfecting your pearl knotting. We will  give you a list of supplies you will need although most of the supplies you will already have! The Distance Learning Kit will include: Griffin Silk Thread (size 8), French Wire, Clasp and Imitation pearls. Participants also receive a coupon to purchase The Pearl Girls pearls for a major discount in case you want to knot a genuine cultured pearl necklace or bracelet for someone yourself or someone you love.
If you have questions, you can email Abby or schedule a phone consultation where she can talk you through any questions or challenges.
If you have any questions, please let us know! Email us at info@thepearlgirls.com or call us at (706)850-5296.
Some feedback from Joanne, our very first woman to try our distance ed video, "I learned the pearl knotting the same day I received them in the mail. The video was very helpful!" Here is her finished necklace (great work Joanne!!)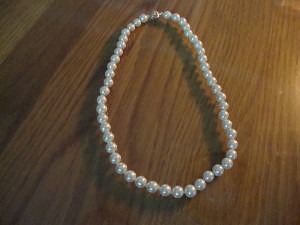 SaveSave
@thepearlgirls on INSTAGRAM
PEARLS JUST WANNA HAVE FUN!
Follow us on Instgram @thepearlgirls and tag your photos with #thepearlgirls.