Free shipping on orders $99 and up! Call or visit us in person Wed - Fri 10 am - 4 pm & Sat 10 am - 2 pm
Product Description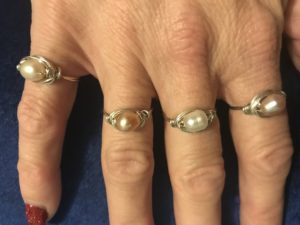 Look at this lovely wire wrap pearl ring... or should I say, lovely pearl rings... I liked dressing up one for every finger!
We created these rings first as sweet baby rings. They sure make a lovely gift in a nice small size. Yes, it is a bit extravagant to indulge in a pearl ring for a little one but I still have the very first pearl ring I ever received and I find them to be the sweetest keepsakes! Hopefully your sweet girl will love her wire wrapped pearl ring, too!
But, truthfully, this design is not just for children! Women can enjoy this lovely pearl ring design, too!
We decided to promote these rings as an add-on to our Pearls for Project Safe Fundraiser which we are promoting as our January, 2019 fundraiser! We support Project Safe's efforts to assist victims of domestic abuse and to lead the way towards education, prevention and more.
So, feel free to order this ring in white or pink for yourself OR return the pearl you find in your Pearls for Project Safe Fundraiser oyster and we can make a ring out of it! We are also happy to make these rings using your own pearls!
All options are $39.
Choose your size! The ring is made with Sterling silver wire or you can upgrade to 14K gold!
Thanks for an amazing year and an amazing fundraiser! Thanks for being a Pearl Girl!
Would you like to see Sylvia make a wire wrap pearl ring? Check out this video where she takes us into her studio to make a Wire and Pearl Ring!
Love,
India
These are totally custom, made-for-you rings by the artist Sylvia Dawe. There will be slight variations in the wire wrapping and the pearls. Please allow up to 2 weeks for delivery! Due to their custom nature, these cannot be returned or exchanged. Thanks!
*Also* we offer a variety of pearl rings,  click here to see another Pearl Ring!
@thepearlgirls on INSTAGRAM
PEARLS JUST WANNA HAVE FUN!
Follow us on Instgram @thepearlgirls and tag your photos with #thepearlgirls.