Free shipping on orders $99 and up! Call or visit us in person Wed - Fri 10 am - 4 pm & Sat 10 am - 2 pm
Product Description
A cross of hand woven small cultured pearls. An enhancer to add to any of our pearl necklaces, it also looks lovely on a silver chain!
Woven by Hand
A hand woven cultured pearl cross. Wear as a beautiful pearl enhancer to add to any of our pearl necklaces or order it on a beautiful sterling silver chain. Created with luxurious  small cultured (3mm) pearls. This pearl cross is a gorgeous expression of your faith.
Commitment
This cross tells the story of our dear Pearl Girl, Judi. Judi is almost 80 years old and she wanted to work with us. I really wanted Judi to work with us, too. She has a history of pouring her love and creativity into all of her endeavors. She is a great friend and confidant and she, like so many women who work with us, enjoys the camaraderie and supportive working environment of The Pearl Girls. The only problem? Judi could not knot pearls. She tried and tried  and spent much time with us but the knots still were just not tight enough. As you all know, I am very particular about our pearl knots...they have to be perfect!
Well, Judi decided she couldn't be a pearl knotter, but she could make her mark in other ways. After a customer from California requested it, Judi created the very first Pearl Cross. She went on to create our Pearl Heart, Cluster Ball Earrings and Cluster Ball Necklace. Now Judi is working her tail off at The Pearl Girls and loving every minute of it, and we are enjoying having a true Matriarch in our midst. Now we can say our workforce spans 60 years of talent...pretty awesome!

Details
So, about this gorgeous pearl cross...we first offered it in a larger 4mm pearl which gave it a larger profile. Although it is stunningly beautiful, many of you asked for it to be slightly smaller. So, here it is in 3mm pearls.
Dimensions
The dimensions of the cross about 1.5" x 1" across and about 1/4" deep. We can attach this cross to a sterling silver enhancer that opens and closes so it can be clipped onto a strand of pearls or you can get in on a chain. If you order it on a chain, tell us how long you want it! We suggest 14" for a child, 16" for young girls and petite womenor 18". Do you want it even longer? We create everything by special order so feel free to reach out to tell us what you want!
This is the cross of compliments. We find that when women wear this piece, people notice. The same way our first Pearl Cross customer noticed a similar design being worn by a movie star in her church! We have gotten so many kind messages about this pearl cross and we  are so appreciative that you know the work and the dedication that goes into creating this piece. Wear this beautiful necklace with pride.
Our cultured pearl cross features 3mm cultured pearls with a sterling silver enhancer clasp or on a sterling silver chain! Prefer 14K gold? Add this to your cart then Click here to add a gold chain!
Made by Judi and the rest of our team (she taught us!) in Athens, GA! As always, this piece is made with love, especially for you!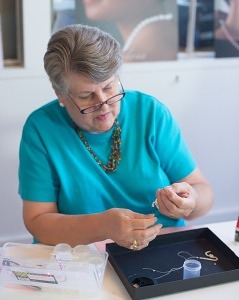 And here is Judi hard at work on her next pearl cross!
We love our Pearl Girls!!
Best,
India
@thepearlgirls on INSTAGRAM
PEARLS JUST WANNA HAVE FUN!
Follow us on Instgram @thepearlgirls and tag your photos with #thepearlgirls.