Free shipping on orders $99 and up! Call or visit us in person Wed - Fri 10 am - 4 pm & Sat 10 am - 2 pm
Product Description
The Single Tahitian Black pearl necklace features a gorgeous medium to large Tahitian black pearl from an amazing cultured pearl farm in French Polynesia.
This necklace features one gorgeous Tahitian black pearl on a sterling silver chain. You can also choose black leather, if you prefer!

Picture It
Can you? Picture the gorgeous clear waters of French Polynesia, home of the Tahitian black pearl. On the remote island atoll of Ahe, a quaint family pearl farm produces a modest amount of black pearls each year. They are varied in shapes sizes and even color but they are each rich in their beauty and uniqueness. These are the pearls founder India Rows thought were appropriate for The Pearl Girls. They are the pearls that radiate with the sun, wind and beauty of island life. They speak of spectacular riches and nature's incomparable gifts.
I must admit... she was more relaxed on this trip than I have been in years and I love that these pearls, so simple and beautiful, represent a taste of life that some of us simply forget about. A life of beauty and appreciation, a life slowed down and savored. I  was so impressed and in awe of the founder of this remote pearl farm. He is committed to culturing gorgeous pearls and he is committed to preserving (and promoting!) French Polynesia's natural resources.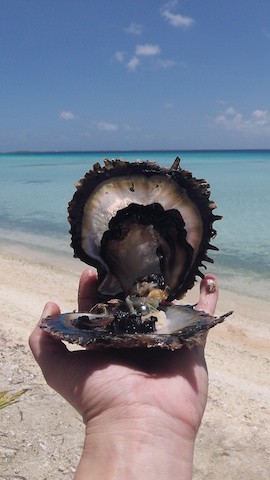 But, what I care about most is the beauty in these pearls... and they are gorgeous. These medium pearls (averaging 8-9mm in diameter) are slightly baroque. They are full of the sunshine they were born in and they are guaranteed to radiate off your neckline. Enjoy the beauty of these gorgeous and rare finds!
Made in the U.S.A. (of course), these 8-10mm pearls are featured on a sterling silver chain. 
Want the matching earrings? Click here!
Love,
India
SaveSave
SaveSave
@thepearlgirls on INSTAGRAM
PEARLS JUST WANNA HAVE FUN!
Follow us on Instgram @thepearlgirls and tag your photos with #thepearlgirls.