Product Description
Mail your vintage scarabs to us and we will create a fabulous new bracelet!
Surely you remember the look of a scarab bracelet! But have you seen those scarabs transformed into a new and contemporary Scarab Cuff Bracelet?
We took our vintage scarab bracelets and created a new design!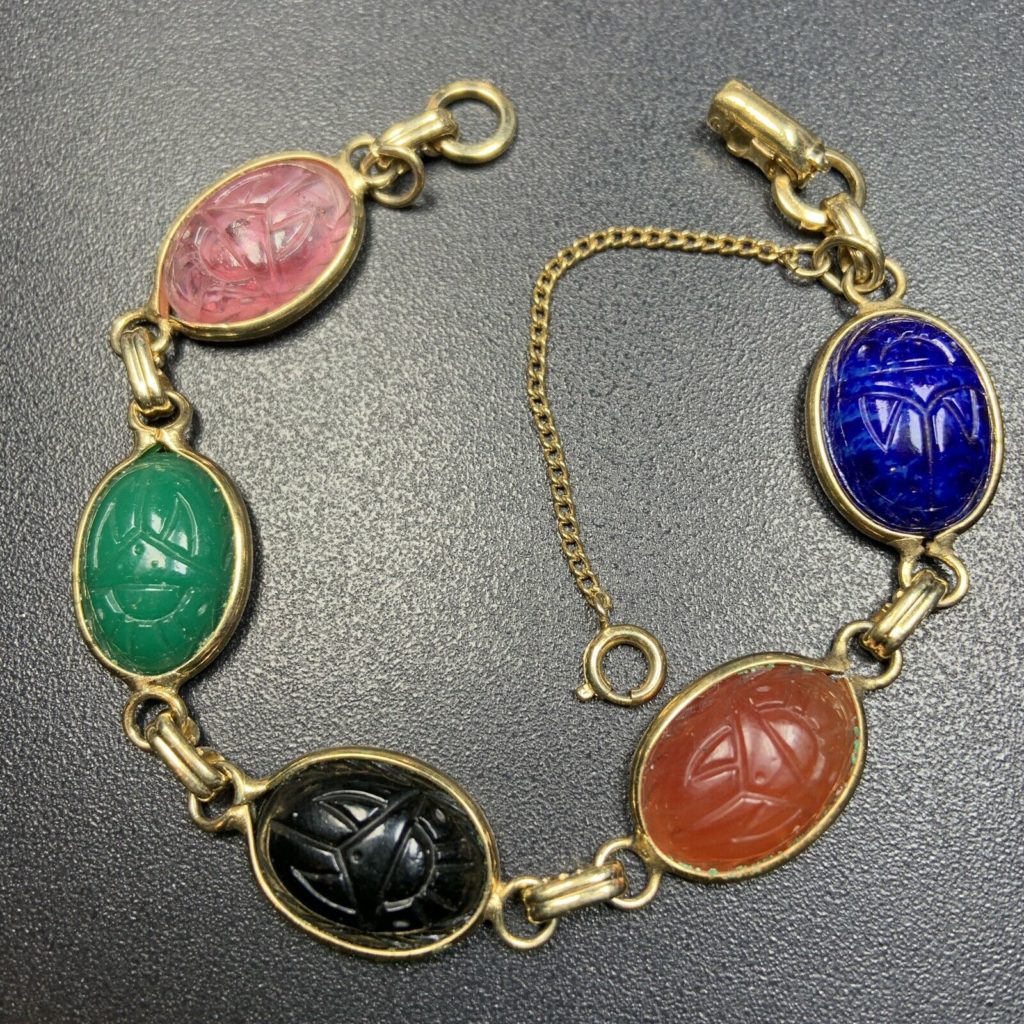 Scarabs from the 60s, 70s and 80s
These gold-toned link bracelets used to be very popular and many women have one in their jewelry box or can easily procure one from eBay. But, they are a bit out of fashion these days. So, when you stumble across one in your jewelry box, what are you going to do with it? Send it to The Pearl Girls, of course!
The Scarab Project
The Scarab Cuff Bracelet project began when my Aunt Anne passed away in 2019. Anne was an eccentric New Yorker with big bold jewelry from the 80s, pearls of all shapes and sizes, a huge emerald ring and other notable jewelry pieces. She also had many, many scarab bracelets. What a fun project for her nieces.
We found a fabulous metal artist from Mexico and sent him Anne's bracelets and he created a bold bracelet, worthy of Anne's legacy!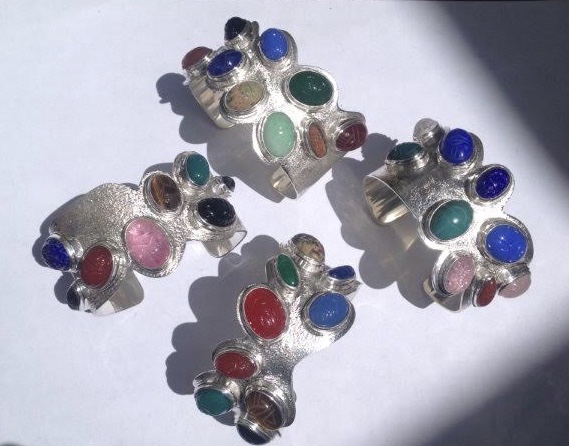 And then, the compliments started rolling in. It is hard to miss this bracelet! It is bold and colorful, a unique look set in silver. So, we had our artist make a few for The Pearl Girls shop! We are so excited to offer these to you! Buy one or send us your scarabs and our artist will make one using your scarabs.

Scarabs
What are scarabs, anyway? Most of you know the lore of scarabs but my friend Dana doesn't. So, for those of you younger folks, here is the low down. Scarabs are beetles... dung beetles! As in, we roll poop around and lay our eggs in it, types of beetles. Kind of weird. But, in ancient Egypt, the image of the beetle rolling a ball around reminded people of King Ra, or one of his deities, who rolled the sun in and out of the sky each day. And each new day is a promise of rebirth and renewal.
This scarab beetle became a very popular symbol in ancient Egypt. They were symbols of good luck, commemorated celebrations and, of course, were important in the use of burials. The hieroglyphic of the scarab beetle is translated to "transform." This was significant in a cultured that revered rebirth and reincarnation.

The Rebirth of Scarabs
Scarabs in jewelry were wildly popular in Egypt and are found in surviving ancient artifacts. So, scarabs have a long history. The history of these vintage scarab bracelets is more recent. In the 1960s and 1970s Egyptian culture was back in the limelight especially with the highest grossing film of 1963, Cleopatra. This brought scarab jewelry back in popularity. Many people bought scarab bracelets during this time. The scarabs were either made of plastic or made of gemstones. They were carved with markings and set in a gold or gold tone metal. The quality of these bracelets vary widely.
Scarab Cuff Bracelets
What is so wonderful about the scarabs is their colors! Using gemstones or even plastic beads, these pieces are known for their variety of colors. And,I think that is what makes these cuff bracelets especially impactful...color!
Would you like a Scarab Cuff? Send us your scarabs! We will give them to the artist and have your own cuff bracelet made from them. Don't have scarabs? No problem! We can procure some for you and have a bracelet made for you. Please allow 6 to 8 weeks for us to complete your project.
What a fun something different for your jewelry collection!

How To Order
If you have scarabs that you would like us to put in this cuff bracelet, select "I have scarabs!" at check out. The investment will be $750. Checkout, then mail the scarabs to us at The Pearl Girls, 548 Hawthorne Ave, Athens, GA 30606. Once they arrive we will get started on your bracelet.
If you do not have scarabs, no problem! Simply select, "I need scarabs!" The bracelet will be $800 and we will get scarabs for you and have them made into a bracelet.
Please allow a 6 to 8 weeks to finish your project and get the bracelet in the mail to you. Please know that due to the unique nature of this product this scarab cuff bracelet is not returnable or available for a refund.
Love,
India
@thepearlgirls on INSTAGRAM
PEARLS JUST WANNA HAVE FUN!
Follow us on Instgram @thepearlgirls and tag your photos with #thepearlgirls.