Product Description
We have Fall-en in love with our new Leaf Pearl designs! Get it? Fall-en? Dana was so inspired by the beautiful colors outside that she created this design for Autumn. But, of course, the necklace is so sophisticated and beautiful we know it will look great all year long! Psssst... see the Leaf Pearl Earrings here...
We spend the third Thursday of each month brainstorming new designs, presenting new designs and, as you can see, drinking a little wine and noshing a bit, too. We are, at our core, classic women who believe in the power of pearls to connect us to the ones we love. But we also love new designs and playing around with new pearl looks. It keeps us continually excited about what we do, and it keeps our customers excited!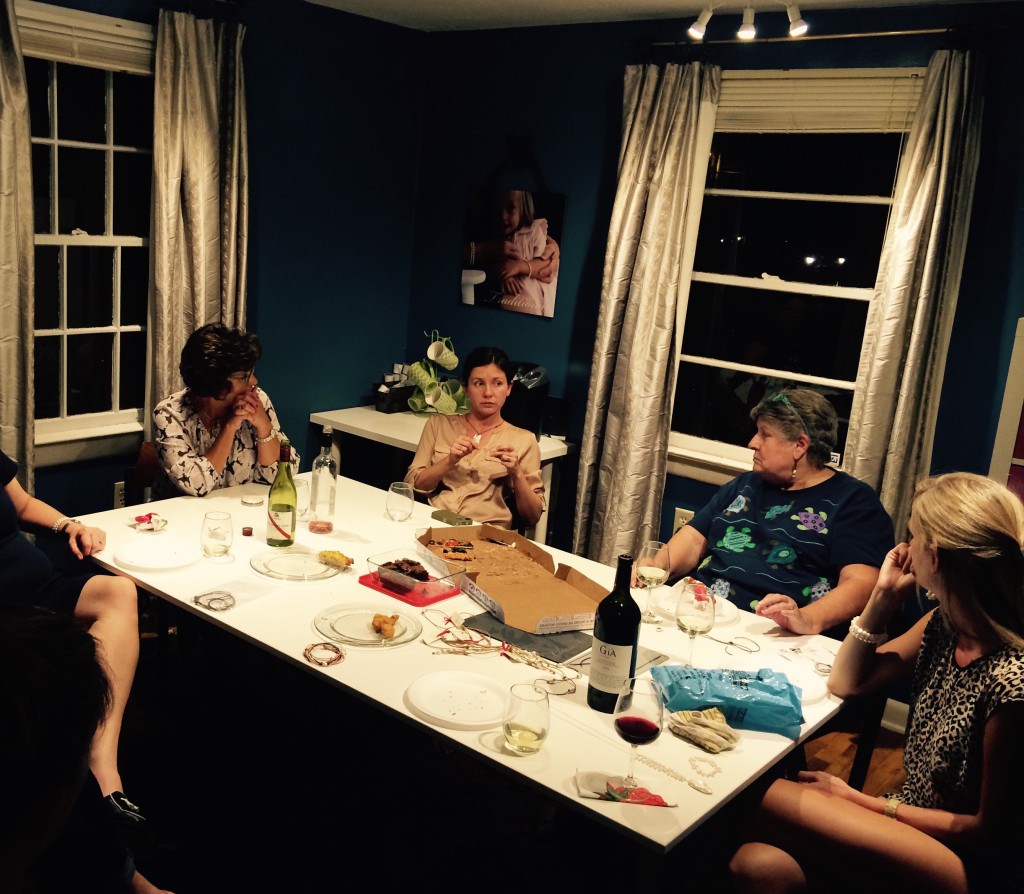 This is the night Dana created the new Leaf Pearl Necklace design. We started with a gorgeous leaf that Dana and Abby attached to a chain. They decided to give you options of either a 10mm round pearl or a drop pearl... like a sweet drop of dew off the chain. It adds such a sweet touch but it does make this necklace slightly different from the original image. Just imagine a rounder pearl. We promise, it looks fabulous!
We created this necklace in a 17" length with a 1 1/4 inch drop from the bottom of the leaf to the bottom of the pearl. And this is the size the model (Dana) is wearing! I wear my classic strand of pearls in an 18" and I find the 17" length in a chain necklace is perfect. Here is the great thing, though. Because we create these necklaces per order, you are welcome to choose your perfect length! That is the beauty of custom jewelry, made in the U.S.A., right? Don't forget to see the lovely matching earrings here...
Enjoy this lovely piece! We are so proud to be able to offer it to you!

So sorry, the gold-filled is currently unavailable! We are offering these in silver only!
*Due to the unique designs, please allow us a few extra days to make these for you! *
Best,
India
@thepearlgirls on INSTAGRAM
Follow us on Instgram and tag your photos with @thepearlgirls #thepearlgirls