Free shipping on orders $49 and up! Call or visit us in person Wed - Fri 10 am - 4 pm & Sat 10 am - 2 pm
Product Description
A gorgeous reminder to Count Our Blessings! The pearl necklace features a gorgeous, simple single pearl design to which additional pearls can be added to represent your wonderful blessings! Made for you in Athens, GA.
Our Count Your Blessings pearl necklace gives you the opportunity to count the blessing s in your life. We start with the beautiful single pearl necklace. Do you have one blessing in your life? Maybe a sweet baby or a year of marriage. Maybe you have more than one blessings. Add pearls to your necklace to keep counting these blessings. Having two pearls is a great representation of my two children. They truly are as glorious as a pearl! What about 10 pearls for the blessing of 10 years of marriage? My mamma has 11 grandchildren and she thinks every single one is a blessing. What about when your sweet granddaughter (or daughter) turns 21? What about a twenty-one pearl necklace.
What we do is knot a pearl to represent each blessing and add it to a sterling silver chain. So tell us how many blessings you want to celebrate for yourself or one you love. Thank you for sharing your blessings with us! Prefer 14K gold? Visit our listing for 14K Gold Chain Upgrade and add the desired necklace length to your cart.
We have a few of our own too. Here is Abby, our Head of Production, with her two blessings: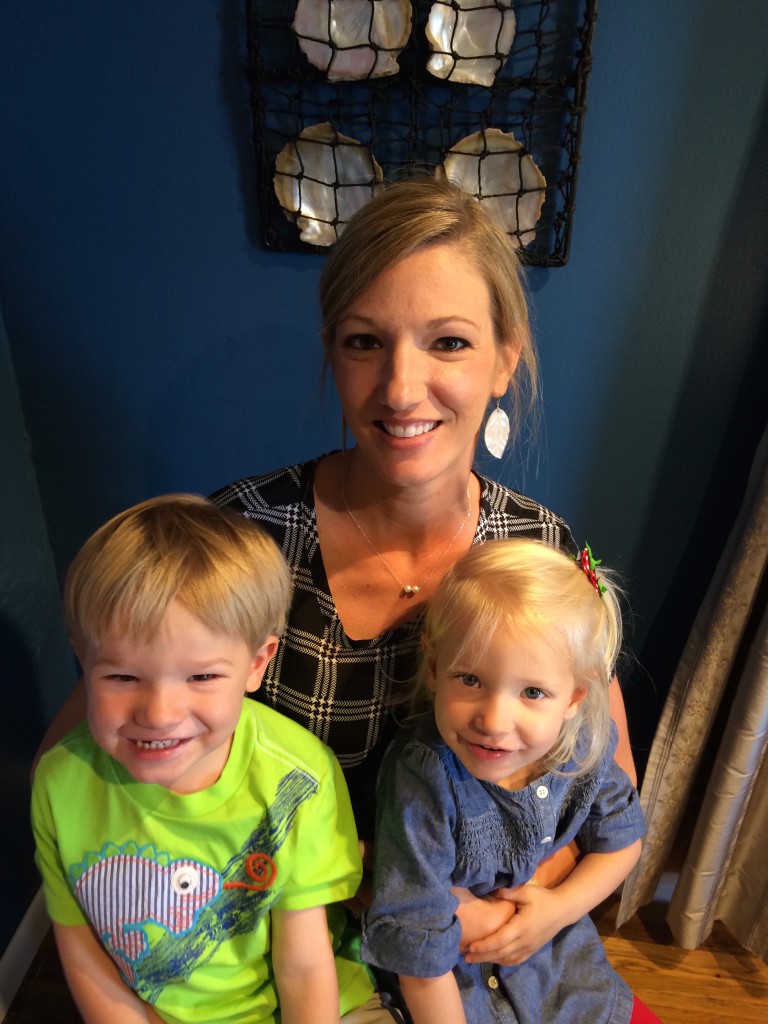 Abby counts Chas and Elle among her many blessings!
We love knowing you will keep your little pearl blessings close to your heart! These necklaces are custom made in the U.S., right here in Athens, GA!
Pearl Girls have multiple choices for how to enjoy their Count Your Blessings Pearl Necklace. First, for petite women, children or women who love delicate necklaces and small pearls, the small 5mm pearl is perfect. For those more into the traditional size of pearls, the medium 7-8mm pearl is perfect. I will say the 7-8mm size is our most popular for this type of necklace.  For those women wanting a little more of a pop, the large 10mm will suit you best. You can always add more pearls to your necklace now or on down the road.
If you are not sure of your perfect size, please review our images or see Our Size Chart.  As always, please allow us a week to custom create your necklace. If you are in a rush (and we are talking to you men buying gifts for the special wife, girlfriend, mother or daughter in your life), let us know and we will create your necklace faster.
For additional reading, read more here on my own blessings and the inspiration for the Count Your Blessings Pearl Necklace.
@thepearlgirls on INSTAGRAM
PEARLS JUST WANNA HAVE FUN!
Follow us on Instgram @thepearlgirls and tag your photos with #thepearlgirls.