Product Description
UPDATE: Congrats to our winner, Katie! We are no longer offering this sweepstakes but we can make a necklace for you, just like this one! Just let us know!!
Would you like 7 Tahitians pearls for $20? Well, here is your chance! 

This month we are having a sweepstakes! Buy a ticket for $20 and you just might be the lucky winner of this Tahitian pearl necklace, donated by our founder, India Rows.
The drawing is April 20th!
Prefer to simply buy a necklace like this? That is an option, too! Choose "Make Me The Necklace" and we will make one just for YOU! Please allow us two weeks to complete your piece!
Getting Real…
Yes, I am going to be honest, the changing landscape of business occasionally get us down here at The Pearl Girls! We know we provide an amazing service (hello, Pearl jewelry repairs!) and we have gorgeous jewelry (we love our pearls!) but we continue to struggle to stay on top financially!
What we do have going for us is an amazing and supportive customer base. Thank you, Pearl Girls! Because we of you, we are working on it! We know we are here to stay! And we feel your love and support daily.
We have this gorgeous necklace, featuring 7 gorgeous, large Tahitian black pearl from an amazing cultured pearl farm in French Polynesia. These Tahitians are wire wrapped on 14k gold fill and finished with a round clasp. It is stunning!
Picture It..
Can you? Picture the gorgeous clear waters of French Polynesia, home of the Tahitian black pearl. The atolls of French Polynesia are amazing areas to culture black pearls. The mineral rich waters and abundant sea life make for healthy and clean waters. Oysters thrive in this area and produce amazingly gorgeous pearls!
Tahitian pearls vary in shapes, sizes and even color but they are each rich in their beauty and uniqueness. These pearls radiate with the sun, wind and beauty of island life. They speak of spectacular riches and nature's incomparable gifts.
Tahitian pearls radiate with such beauty and power. They are the sea, the richness of life and inner beauty all incorporated into a deep and rich gem. Inner strength, beauty and radiance. This is what I think of when I see or try on this 7 Tahitian pearl necklace.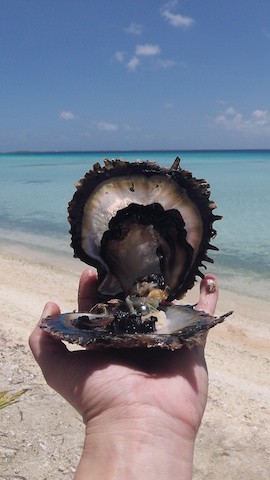 I hope you will try your luck at winning this gorgeous piece. Your ticket helps us keep doing what we do! And I hope it gives you a chance to win this beauty, too!
Love,
India
SaveSave
SaveSave
@thepearlgirls on INSTAGRAM
PEARLS JUST WANNA HAVE FUN!
Follow us on Instgram @thepearlgirls and tag your photos with #thepearlgirls.