Product Description
By Special Order! Quantities very limited! Contact us for your custom creation!
How about some fabulous ear-bobs? These Fireball Pearl Earrings are stunning. Wear them alone or pair them with the Fireball Single Pearl Necklace for a fabulous set!
We take our amazing fireball pearls and dangle them from 14k rose-gold filled french wires. The rose gold looks amazing with these pearls. We can make these in sterling silver or 14K white or yellow gold, too! Tell us how you prefer to wear your fireballs!!
These earrings are big, bold and unlike anything you have ever seen.
Are these pearls really pearls? YES
Is this color natural? YES
Let me tell you, you have never seen pearls more beautiful than these! Last week we sold these stunning knotted necklaces. It is so challenging to find a full strand of these fireballs with the same fabulous mix of metallic colors. We now have some single pearls and matched pearls for Fireball Earrings, too!
Meet The Pearl Girls Fireball Pearls! These pearls were plucked straight from the Yangtze River Delta! On the edges of the mighty Yangtze River, they are culturing amazing pearls. And we just scored some of the most beautiful ones! These are all natural colors an unlike anything I have ever seen! Read more on these beauties HERE!

The Most Amazing Pearls
The most important thing to know about these Fireball Pearls is that they just might be the most amazing pearls you have ever laid your eyes on. I'm telling you, do not buy these pearls if you do not like to draw attention to yourself. These earrings POP!!!!
Metal
We chose to make these on 14K rose gold french wires. The rose gold compliments these pearls very well! However, since we will be custom-creating your earrings, we can use any metal you prefer! Sterling Silver is the same price or you can up-charge to 14K gold!
Stunning Luster
The luster in so stunning! And what are you going to tell your admirers about these beauties? They are similar to the
Edison Pearls
that we talked about last month; they have the same crinkle like surface quality. These pearls are cultured in the Yangtze River Delta, the overflows of a huge freshwater river. In fact, the Yangtze is the third longest river in the world. You may have seen ads for boat tours along this scenic River!
No, these pearls are not always this fabulous. The colors of Yangtze pearls range from mauve to blush but these Yangtzes are metallic. As if they have been dipped in gold. Their luster is out of this world. So, no, Yangtze pearls are not *always* this fabulous. The Pearl Girls found the best for you, of course!

Fireballs
Some people in the pearl world refer to these pearls as Fireball Pearls. Fireballs typically have a baroque like tail, similar to our Angel Wing earrings. These are slightly baroque but are closer to round. I think the Fireball name is appropriate given the multi-colored richness of these pearls. By hue alone, these appear to be fireballs! Although, surprise, fireballs can also come in white pearls! But don't let that confuse you! This losing is for the colorful fireballs! Although, let me know if you like white pearls!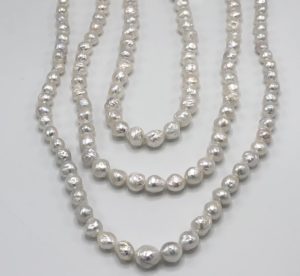 Pearl Size
These pearls range in size from 11mm-16mm.
We are excited to offer single pearl necklaces fireballs while supplies last!

Enjoy!
Love,
India
@thepearlgirls on INSTAGRAM
PEARLS JUST WANNA HAVE FUN!
Follow us on Instgram @thepearlgirls and tag your photos with #thepearlgirls.